Less Than A Week!
"Fear is a reaction. Courage is a decision." Winston Churchill
July 31st! I am all sorts of scared and worried but I know this is the best decision!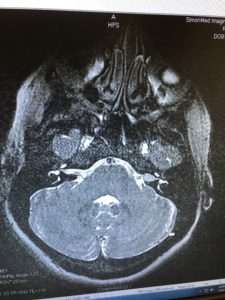 Let's be real here. When the doctor's office called to schedule my surgery I got a little nervous again. But that's fine, I'd have time to warm up to the idea of brain surgery. Then they told me they had an appointment in less that 2 weeks. That's definitely not enough time to warm up to the idea…or really freak out too much for that matter!
Luckily, I've got so much stuff to get done before my surgery so I'm trying to just stay busy and distracted! I am anxiously (nervous and excited anxious…as excited as one can be when they are facing brain surgery, ya know?) awaiting Monday. I can't wait to get this punk out of my head so I can move on with life. I will have to get MRI's for the rest of my life to check for regrowth, but that's something I'm okay with.
I have become part of a very exclusive club. One I'd never want anyone to have to join me in, but grateful I have forever friends that share this odd commonality.
Thank you to everyone for such kind words, prayers, and good vibes sent my way. We (my family and I) all appreciate being kept in your thoughts. We are strong, we are awesome, and we are going to make it through this stronger than ever.